Wastewater treatment is a challenge in and of itself, but dealing with the leftover sludge presents a whole new set of issues. When managed poorly, sludge management can be very costly, bad for the environment, and make a real stink – literally.
solidBLOX transforms wastewater treatment plants by optimizing sludge handling process while lowering effluent NH3 and TP. When coupled with aerobic digestion, solidBLOX eliminates foul odors while producing reuse quality effluent, which is good for all of us.
By thickening to 3%, solidBLOX also can reduce sludge hauling requirements, reducing both cost and pollution. An aerobic digester can now be operated at 3% solids, reducing the size of a conventional aerobic digester significantly. Plus, by using SiC to thicken solids, polymer addition is eliminated, saving plants a ton of money and hassle. Last, but certainly not least, solidBLOX helps make natural organic fertilizer which is good for all of us.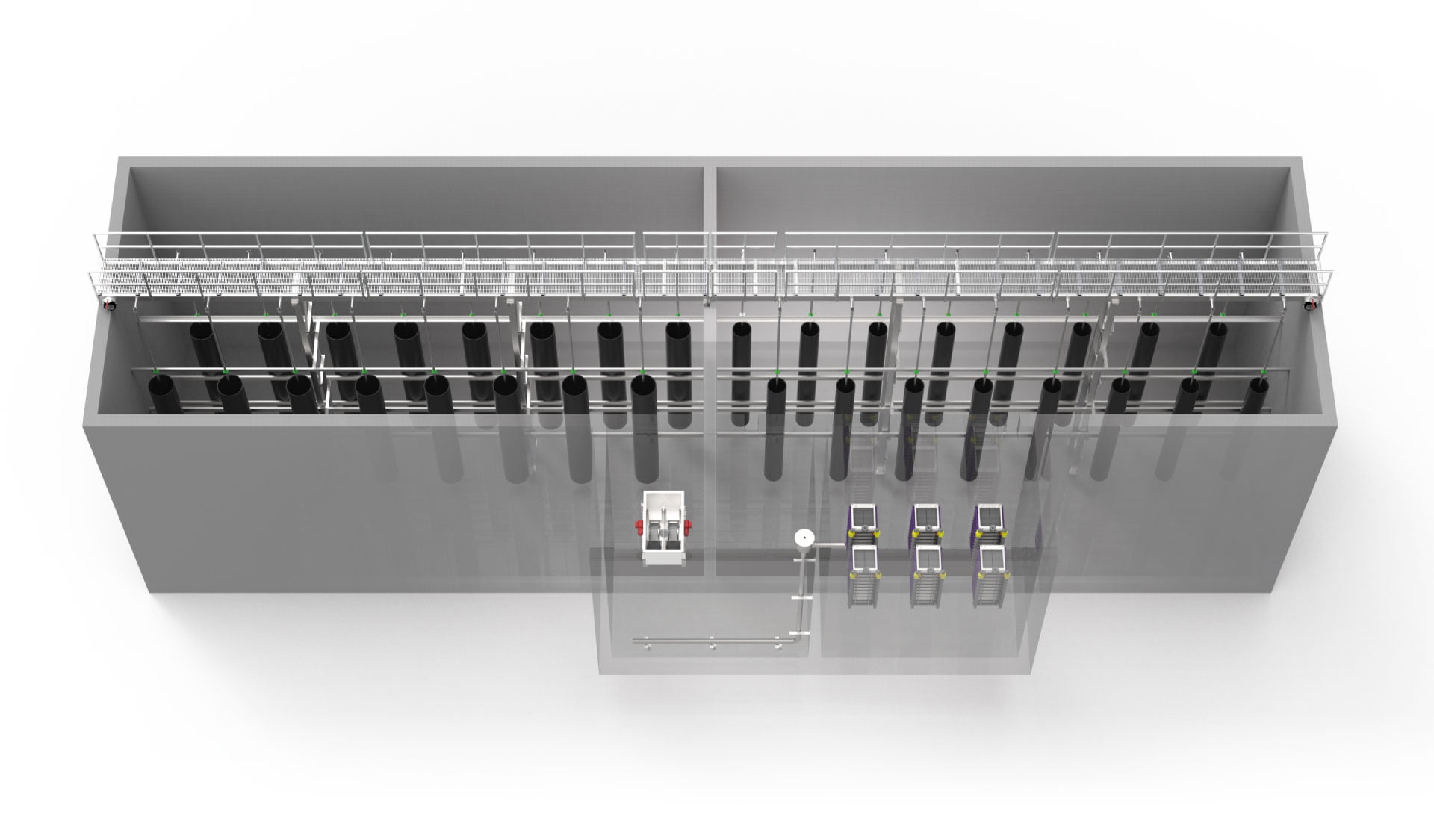 solidBLOX IS USED IN THE FOLLOWING MARKETS
Aerobic digestion plants
WWTP with high hauling costs
WWTP with tight TN and/or TP limit
BENEFITS OF SOLIDBLOX ARE
Class B solids with a lower footprint and energy consumption
Thickening to >3% solids without the use of polymers
Lower sludge hauling costs
Elimination of foul odors associated with conventional aerobic digestion
Reuse quality effluent that compliments a BNR process
The solidBLOX™ system is a optimized, controlled, and well engineered aerobic digestion process that integrates membrane based sludge thickening system consisting of the following: Anoxic Basin, Membrane Thickening Basin, In-Loop Digester, and Isolation Digester. The system can be configured for the following :
GREENFIELD DESIGN
INTEGRATION INTO EXISTING AEROBIC DIGESTERS
The system also makes use of a non-clog, single drop diffuser system which is perfect for aerating and mixing thicker solids concentrations (>3%). The single drop diffuser system features an orifice that is not submerged in the liquid level and is accessible above the liquid level. This simplifies maintenance since going inside a tank, draining the tank, or taking it out or service is not required.
solidBLOX PROCESS
Waste Activated Sludge passes through the screens and enters the Anoxic Tank where it is mixed with a submersible mixer.
The sludge is transferred from Anoxic Tank to the MBT tank via an Airlift Pump.
The sludge is thickened up to 3% solids with the SiC membranes by continuously filtering water through the sludge.
The thickened solids remain in the MBT and as the tank level rises the addition of sludge to this tank creates a corresponding overflow into the In-Loop Digester where it is mixed and aerated to achieve VSR and nitrification.
The addition of sludge to the In-Loop Digester will create a corresponding overflow into the Anoxic Basin and completes the looping cycle between the Anoxic Tank, MBT, and In-Loop Digester. Nitrified sludge from the In-Loop Digester to the Anoxic Tank will cause Denitrification.
The addition of sludge to the In-Loop Digester will create another corresponding overflow into the Isolation Digester where the solids are mixed and aerated until stabilization requirements are met.
TSludge is transferred out for disposal.
SOLIDS MANAGEMENT INTEGRATION
SOLIDS management for cas
SOLIDS management for mbr
EX Series Modules were developed specifically for very extreme and abusive applications, such as MBR and sludge thickening, due to the numerous mechanical stresses placed on the membranes. Unlike polymerics, EX series modules can also be pressure washed to remove dewatering, ragging, or trash accumulation.
unique diffuser case with non-clog diffuser design
EX SERIES FOR SLUDGE THICKENING
solidBLOX can
treat >3% solids! That's like filtering a milkshake.